Our chemistry builds a better tomorrow
Specialty Products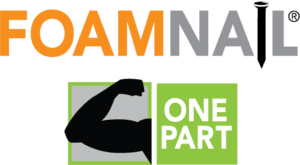 FoamNail® and OnePart™ industrial-strength polyurethane adhesives from FSI are engineered for a wide range of uses including:
Adhering studs to drywall or exterior sheathing
Laminating EPS boards for motorhome walls
Adhesives for SIPs shipped for jobsite assembly
Laminated entry doors
Laminated garage doors
Our FoamNail® two-part adhesive and OnePart moisture-cure adhesive provide strong bonds, tight seals and excellent mechanical properties.
In roofing applications, our FoamNail® adhesive hardens in a matter of minutes. FSI can customize adhesive cure speed according to your on-site requirements.
FoamNail® and OnePart™ are VOC-exempt, formaldehyde-free and do not contribute to global warming or ozone depletion.
Order adhesives from FSI by contacting a technical sales expert to learn more about our adhesive formulas or to place an order.
FSI provides packaging foam systems to keep cargo secure in transit.
SafePak™ is a low-density pour-in-place polyurethane packaging foam solution that displays excellent flowability for superior protection of low-volume specialty products featuring complex dimensions.
SafePak™ pour-in-place packaging foam is a more economical packaging solution for complex parts compared to die-cut or pre-molded foams.
Tell us more about your cargo and shipping requirements and we'll work together to develop the packaging foam solution that protects your goods in transit.


FSI provides custom polyol blends for manufacturers lacking in-house production capacity or who prefer less cost-intensive third-party supply of polyols for foam production.
Our technical expertise is backed by 50 years in business developing innovative, high-performance products in close collaboration with customers worldwide.
We have built a robust and wide-reaching production and distribution network for manufacturers in North America and throughout the world.
Active listening is the first step to developing the ideal polyol blend for your manufacturing process. We're ready to talk, so tell us more.
For small businesses and DIYers working molded products, our Kit Foam is an ideal polyurethane solution for taxidermy and boating and marine applications.
In taxidermy applications, 2 pcf Kit Foam provides excellent compressive strength (27.5 psi) and dimensional stability for more durable mounts that retain their shape for life.
Marine products made with Kit Foam are compliant with U.S. Coast Guard flotation material requirements (33CFR, Section 183.114). It demonstrates excellent adhesion and little to no shrinkage for improved performance and a long service life.
Kit Foam is engineered for ease of workability including cutting, carving and shaping and boasts excellent edge definition.
Kit Foam is water-blown and complies with all environmental standards for foaming.
Kit Foam is available in convenient sizes that are ideal for small-scale and DIY use. Learn more about Kit Foam here.



Ecomate® blowing agent is the ideal expansion solution for extruded polystyrene (XPS) closed-cell rigid insulation sheets. XPS sheets blown with Ecomate® exhibit superior insulation properties, attaining R-values at 1" of up to 5.0.
Ecomate® is CFC-, HCFC- and HFC-free and features no global warming or ozone depletion potential. Ecomate® has been widely used in the field since 2002; no other sustainable blowing agent has seen extensive commercial use.
Switching to an Ecomate®-blown polyurethane system requires little to no major equipment changes, process adjustments or up-front expenses.
Read about the innovation behind our Ecomate® blowing agent. To learn more about integrating an Ecomate®-blown foam system for your manufacturing, contact a technical sales rep.